Post by kiff on Dec 12, 2011 22:07:37 GMT 2
Well, all I can say is that it has been over 2 years of blood, sweat, banged knuckles and head and I'm finally getting to the end of my journey with my teenage dream car.
Found her purely by chance whilst picking some machine parts up from someones house, I spotted her parked on someones driveway and that was it. Made some enquiries and got of the owners number and organised to go round and see it. Turns out the car had 91k on the clock and had been parked in his garage for 14 years and had only put it on his drive 2 weeks earlier with a view of sticking it on fleebay. The fuel tank was out so didn't get a chance to hear her running, but though 'what the hell!' and sorted out a price there and then, which was a £300.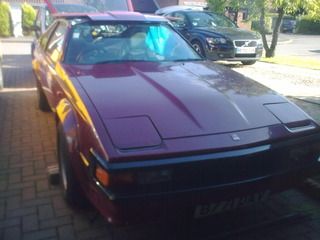 Typical though, found the car I wanted for so long and it's in the 1 colour I hate.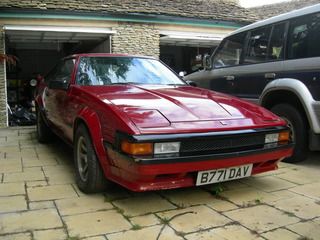 So, got her home and after a quick shufty, found all the electrics worked and with a battery on the engine turned over.............result! However, happiness was short lived, got the fuel tank back in, fill it with petrol, turned it over and ....................... nothing. After changing the normal stuff, plugs, wires and dizzi cap, .............still nothing, injectors out and proffessionally overhauled.........naada. Last thing to try was the coil, which I had fun finding, but after that was fitted, SHE STARTED
On the surface, she looked great and mostly she was, only 2 spots of rust, normal places, offside rear lower panel and the sunroof was a bit iffy but the main problems were suspension bushes, every single one was badly perished, the engine I discovered had a bad oil leak from between the head and the block
So, with all that in mind and the fact I wanted to change the colour, was time for a total strip down. So, engine & gearbox out, suspension off and just general hard work rubbing down, undersealing and cleaning what needed to be cleaned. Now the fun started ;D
Engine bay before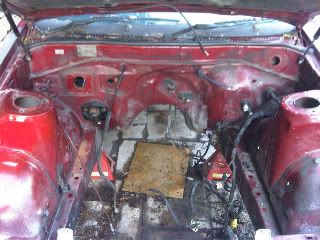 During
And after
Polybushed all round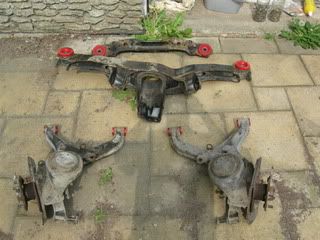 Engine before
Stripped her heart mostly down, more cleaning, head skimmed and chemically cleaned, valves reground, new stem oil seals, found the cause of the oil leak, pulled the threads out of 1 of the head bolts, this was helicoiled and all put back together and ended up looking like this.
and back in the car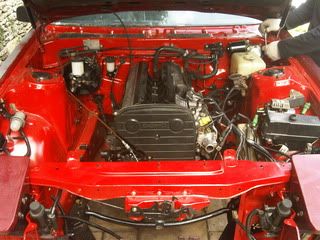 and all plumbed up
Finally got her through an MOT in August this year and have taken her out a couple of times but hated the multi coloured look. I decided to blend in the arches and remove the door strips, plus there were a number of small dents all over, so what with the original, what I call 'Vauxhall Vectra' burgundy and they grey primer, I decided to temporarily do the car in matt black for which I apologise, but as I said, it's temporary, can't stand it...........blaaaah!
Couple of other things
Got a roof spoiler
Wheels ;D
Will post a picture of her in her mourning suit, ie matt black. Won't be like that for long, come the spring she will be going in for a full respray.......can't wait